On November 14, 2018 Waffle Wednesday we got to listen to the "Event Wizard" (hs.fi) Jaakko Blomberg, who has been involved in implementing Cleaning Day, Helsinki Sauna Day, Vegan kiosk Jänö, Kallio Block Party and Konepaja. Jaakko shared his expertise about communality, building events, doing things together, and engaging people.
How do I get people to participate in communal events?
According to Jaakko, he has been equally enthusiastic about all his projects and the ideas for events are born "whenever and wherever". However, there is always a shared experience that the community has to organize need for the event. This is an important step, as participation must be motivational and thus the participants should experience making the event meaningful to themselves.
Once the idea has been invented, the background work has been done and clear frames have been built for the event, the next important step is giving participants the opportunity to use their creativity. In this case, you must be ready to accept the event will be made by its participants. "I'm surprised every time people do all that," says Jaakko. We heard many fun examples of human inventiveness. For example, on Helsinki Sauna Day many offered their own sauna for others as they had planned, but others arrived with mobile saunas from around Finland to Helsinki. Some students, in turn, offered others the opportunity to have a virtual sauna with VR glasses and it turned out that people also offered saunas all over the world for use. When there aren't too many rules and restrictions, there is room for surprise and fun!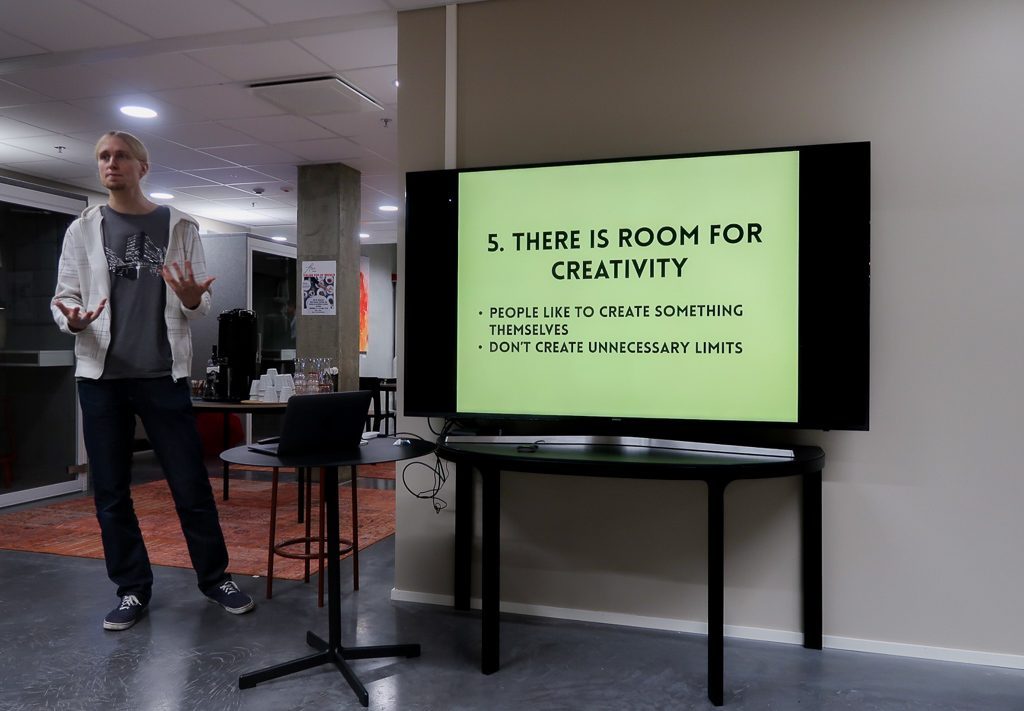 Remember these ten things when building a communal event:
Finally, Jaakko gathered ten things that you should realize to get people participate and get excited about the community event:
1. There is a need for the event
This may not have been said aloud
Needs vary between people / regions
2. The concept is easy and understandable
What, when, where, who, how?
If you can't describe the event idea with three sentences, the idea is usually bad
3. The view is divided
Don't get too stuck in the original idea and boldly listen to others
4. The structure is clear
People need some kind of structure / rules
Build clear frames and give enough tools
Be prepared to make changes if necessary
5. Space left for creativity
People want to create something for themselves
Don't create unnecessary restrictions
6. Participation is easy
It doesn't necessarily require commitment for a long time
Participants can decide for themselves how to take part
Does not necessarily require long planning
7. Participation is rewarding
There are different awards: Doing something good, making new friends, having fun, doing something meaningful, being part of something bigger, money…
8. Be open
People want transparency and knowledge so they can feel part of something
Don't create false expectations
Always give everyone the opportunity to participate
9. Be here
Be there to answer all questions, help with the problems, and receive every possible feedback
Working from 9 to 5 is not enough
10. The event is attractive
Good texts, graphic design, website design, and good images draw people
This is especially important when you create something completely new
[PM1]https://www.hs.fi/kaupunki/art-2000005029402.html